Bistro U Prince
---
The best bistro on the Old Town Square. A wide range of products served in the historic house U Prince. Guests will find quality food and drinks here, but in the street food version. Without service, but in a modern presentation at friendly prices. The wonderful news is that the guests are left with a quality gastronomic experience without porcelain, right below Orloj. Great beer, crispy fries and a burger made of first-class meat.
Bistro U Prince means quality at an affordable price in the most beautiful place in Prague.
Hot Dog
Originally an American fast food dish, it has found its way to all corners of the world. The most beautiful place in Prague with a wonderful sausages surrounded by homemade buns does exist here. Bistro U Prince serves a quality international snack that has a combination of quality and an incredibly captivating location. Moreover, with tradition, as the hot dog has historically been famous at U Prince.
Fries
Who doesn't love fries. One of the most popular dishes in the world is still very popular. There are many types of modifications and variations, but definitely the best potato delicacy is the classic, which relies on crunchiness and adequate salting. This is exactly what is served in the U Prince bistro. Have you tried how crispy are the fries under Astronomical Clock? How about truffle fries? These are also on offer.
Previous
Next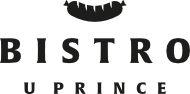 Hotel U Prince, entrance
Staroměstské nám. 29,
110 00 Prague 1 - Old Town
+420 242 430 450
This email address is being protected from spambots. You need JavaScript enabled to view it. This email address is being protected from spambots. You need JavaScript enabled to view it.
---
Marketing: This email address is being protected from spambots. You need JavaScript enabled to view it.
Human resources: This email address is being protected from spambots. You need JavaScript enabled to view it.